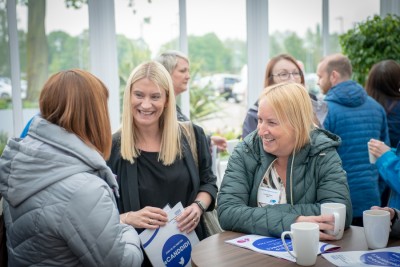 Tickets are now available for the next CANDDID Conference, Friday 17 March 2023, Crowne Plaza Chester, Trinity Street Chester CH1 2BD.
This year's focus: Autism and Neurodevelopmental Conditions: advances in our understanding and management.​​​​​
Help shape the future of research, education and training in Autism and Neurodevelopmental conditions with experts in the field from all over the world. See below to find out more about the line up of speakers at this year's CANDDID Conference.
You can book tickets by visiting our conference platform page here.
Continuing Professional Development: For the first time CANDDID Conference delegates will be able to earn up to seven CPD points by attending CANDDID Conference 2023.
---
Meet our people
Meet Helen, an expert by experience who will be attending #CANDDIDConf2023.
Helen said: "The CANDDID conference is a great opportunity to focus on autism and neurodevelopmental conditions."
---
Meet Robbie, an expert by experience who joins us from one of his runs! 👟👟👟👟
Robbie said: "I want to tell you what's happening on Friday, one of my favourite events of the year and that is #CANDDIDConf2023"
---
Thank you to our sponsors:

---
---
Welcome and Introductions
Tim Welch, Chief Executive, Cheshire And Wirral Partnership NHS Foundation Trust
Keynote Session 1
Chair - Dr Fiona Pender, Consultant Psychologist and Clinical Director, Children and Young People's services, Cheshire and Wirral Patnership NHS Foundation Trust
9.35am-10.00am - Navigating complexities - developing a framework for supporting complex presentations in the community
Prof Mahesh Odiyoor, Consultant Psychiatrist and Strategic Clinical Director, Cheshire and Wirral Partnership NHS Foundation Trust, CANDDID, Visiting Professor - University of Chester
10.00am-10.30am - Navigating the New World of Genomic Testing
Dr Natalie Canham, Consultant in Clinical Genetics -Liverpool Centre for Genomic Medicine, Chief Clinical Information Officer - Liverpool Women's Hospital
10.30am-11.00am - Autistic Women, Gender, and Identity
Dr Catriona Stewart, OBE FRSA, Advice and consultancy, Autism/women and girls/gender; Founder SWAN: Scottish Women's Autism Network Advisor and Ambassador to Scottish Government's #DifferentMinds
Keynote Session 2 -
Chair - Dr Amrith Shetty, Strategic Clinical Director Specialist Mental Health Cheshire & Wirral Partnership NHS Foundation Trust
3.00pm-3.30pm - Game changer: Exploring the role of board games in the lives of autistic people
Dr Gray Atherton, Senior Lecturer, Psychology, Edge Hill University
Dr Liam Cross, Senior Lecturer, Psychology, Edge Hill University
3.30pm-4.00pm - Advances in our understanding and management of Tics and Tourette's conditions
Prof Andrea Cavanna, Consultant in Behavioural Neurology, BSMHFT Birmingham and Associate Professor in Neuropsychiatry, University of Birmingham
4.00pm-4.15pm - Closing remarks
Prof Sujeet Jaydeokar, Consultant Psychiatrist, Speciality Clinical Director, Neurodevelopmental Disorders and Acquired Brain Injury Services and Director of Research, Cheshire and Wirral Partnership NHS Foundation Trust, Clinical Director, Centre for Autism, Neurodevelopmental Disorders, and Intellectual Disability (CANDDID)
Seminar 1 - ARFID and autistic children and young people
Dr Robynne Wadsworth,

Consultant Child and Adolescent psychiatrist, Cheshire and Merseyside Adolescent Eating Disorders Service, CWP and Laura Brownlow, Specialist Eating Disorder Dietician, Cheshire and Merseyside Adolescent Eating Disorders Service, CWP

Chair – Natalie Hewitt,

Advanced Practitioner, Speech and Language Therapist




Adult Autism Assessment Team, Cheshire & Wirral Partnership NHS Foundation Trust
Seminar 2 - Diagnostic and treatment pitfalls in the management of adult ADHD
Dr Tito Mukherji,

Consultant Psychiatrist, Adult ADHD services, Cheshire and Wirral Partnership NHS foundation Trust

Chair – Dr Geraldine Swift,

Consultant in Liaison Psychiatry and Director for Medical Education, Cheshire & Wirral Partnership NHS Foundation Trust
Seminar 3 - Autistic people in the workforce: Identifying and removing barriers and improving employment outcomes
Phil Wilson,

Head of Training, Assessment & curriculum, Fast Stream and Emerging Talent;

Chair – Clair Haydon,

Consultant Occupational Therapist, Clinical Director for Mental Health Complex Care for North West England, Consultant Occupational Therapist, Adult Autism service & RCOT England Board Member
Seminar 4 - MindMe: using cognitive accessibility features to empower digital self-report in children and young people with cognitive challenges
Oddbjørn Hove, PhD,

Senior Consultant Learning Disability Psychologist, Regional Supervising psychologist, and Senior Researcher, Helse Fonna HF, Department of Psychiatry/Department of Research & Innovation, Norway

Dr Hanne Marit Bjørgass

, MD, PhD, Senior Consultant Child and Adolescent Psychiatrist, Stavanger University Hospital, Dept. of Child Habilitation (Paediatric Neurology).

Anette Våga Ball

, Stavanger municipality, Pedagogical Psychological Services, Pedagogical Psychological advisor, Team leader "Team på tvers", MA.

Chair – Dr Christine Wee,

Consultant Child and Adolescent Psychiatrist, Work Stream Lead Children and Young People s' model of care: Northwest England Operational Delivery Network for Learning Disability and Autism Honorary Senior Lecturer and programme lead, Chester University
Seminar 5 - Principles for prescribing in autistic people
Dr Sam Porter,

Consultant in Perinatal Psychiatry

Chair – Prof Bhairavi Sapre,

Consultant Psychiatrist - Cheshire and Wirral Partnership NHS Foundation Trust, Visiting Professor (University of Chester),Cheshire and Mersey Perinatal Service Joint Clinical Lead, CWP LNC Chair, Armed Forces Clinical Champion,Schwartz Round Clinical Lead and Lieutenant Colonel RAMC 253 (North Irish) Medical Regiment
Seminar 6 - Complex needs escalation and support tool - Using stratification based approach to meeting needs of autistic young people
Dr Fiona Pender, Consultant Psychologist and Clinical Director, CWP and Dr Lesley Doyle, Consultant Psychologist, CAMHS, CWP

Chair – Dr Ceri Woodrow,

Consultant Psychologist and Clinical Director, Learning Disability services, Cheshire and Wirral Partnership NHS Foundation trust
---