Easy Read version of the conference programme will follow soon.
---
Join Us for the CANDDID Stakeholder Conference 2023:
Shaping the Future of Research
🌟 We are thrilled to announce that registration is now open for the CANDDID Stakeholder Conference 2023 following the hugely successful Stakeholder Conference 2022, which saw over 130 people join us to help make a difference and drive change. 🌟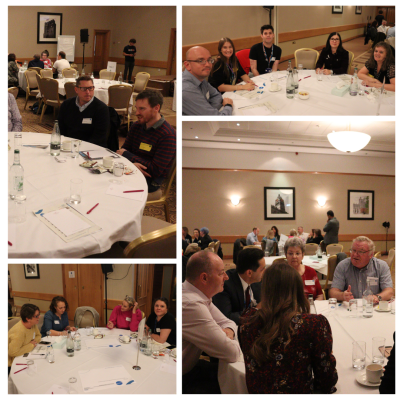 Why Attend the CANDDID Stakeholder Conference 2023?
✨ Impactful Collaboration: Be part of shaping research projects that matter to you.
✨ Co-Create Change: Contribute to meaningful solutions that transform lives.
✨ Network & Connect: Forge connections with like-minded individuals and experts in the field.
✨ Drive Innovation: Help bridge the gap between research and real-world impact.
Event Details:
📅 Date: Friday 13 October 2023
🕒 Time: Check in from 9.30 am, event will run from 10.00am to 3.00pm
📍 Venue: Crowne Plaza Trinity Street, Chester CH1 2BD
RSVP Today!
Secure your spot at this dynamic event by filling out the form below or by clicking here to register your free tickets. Let's co-create a future of research that's meaningful, inclusive, and transformative.
For inquiries, contact cwp.canddid@nhs.net.
Our conference promises to be an exciting journey through captivating research areas that emerge from real-life experiences, bringing essential issues to the forefront. Here are some of the main topics to look forward to:
🔍 Unmet Needs and Experience of Care - Explore improvements in the transition of care, enhancing the care experience, meeting the needs of families, early identification, and interventions, and more.
📊 Effectiveness of Services and Care Provided - Delve into measuring outcomes, leveraging data to understand service needs, effective needs assessment and management..
💭 Abuse and Trauma - Gain insights into understanding trauma and trauma-based care, domestic abuse, and aggression towards individuals with disabilities.
🌈 Sexuality and Gender (or Intersectionality Theme) - Gender identity and autism and sexuality and autism.
💭 Mental Health and Behavior That Challenges - Discuss critical topics such as suicide and self-harm in autistic people, diagnostic overshadowing, and the availability and effectiveness of psychological therapies for autistic people.
Join us on this transformative journey towards meaningful change through research. Let your voice be heard, and together, we can shape a brighter future for all. We look forward to your presence at the CANDDID Stakeholder Conference 2023!
Is there a cost for this event?
No – this is a free event.
Who is the event aimed at?
It is aimed at people who use services, carers and families and those with lived experiences.
Can I bring a supporter?
Yes, please register for a ticket for them as well.
How many people will be there?
We expect approximately 100 people.
Check in arrangements:
Registration will be open from 09:30 am and further directions will be provided on the day
Seating arrangements/room set-up:
The room will be set up with round tables and you can sit with your supporter. We can reserve spaces together and this can be requested in advance.
Refreshments and food
Coffee, tea and water will be available. Lunch will be provided – please ensure any dietary requirements are made known to the team as soon as possible, as well as on the registration form.
Quiet areas, breakout rooms and in-conference support.
There will be two breakout rooms and there will be a quiet area for those who may need it. Supporters will be available for help throughout the day – they will be identified by a badge.
Where and how any groups / sessions will be run?
There will be two keynote talks in the main conference room and two workshop sessions in the main conference room or breakout rooms. Workshop sessions will be in smaller discussion groups.
What does the venue look like?
If you have any further questions: