Over 130 people travelled to the Chester to shape the future of the Centre for Autism, Neurodevelopmental Disorders, and Intellectual Disability (CANDDID) at the first ever CANDDID Stakeholder Conference.
The conference, which took place at the Crown Plaza Hotel, Tuesday 4 October, was set up as a platform for people with lived experience to engage with clinical academics. The aim was for everyone to come together, to share issues and ideas and to collaborate to design better support services for people in need.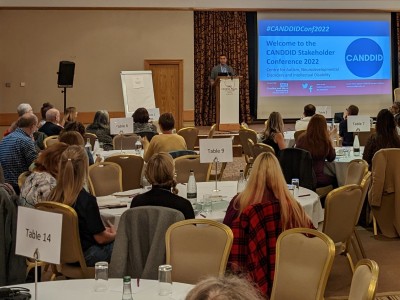 Speakers from all over the UK came to the event to present their experiences including Paula McGowan OBE, a multi award-winning activist who has dedicated her life to campaigning for equality of Health and Social Care for Intellectually Disabled and/ or Autistic people.
The death of Paula's son Oliver McGowan shone a light on the need for healthcare professionals from all disciplines in the NHS to have better training on learning disabilities and autism. As a result of Paula and her husband Tom's campaigning the 'Oliver McGowan Mandatory Training in Learning Disabilities and Autism' received royal assent in April 2022, which means it is enshrined in law.
Paula said: "Today I was invited to speak for CANDDID and talk about Oliver's story, his training and what we can learn from Oliver's death. I was inspired to meet the team from CANDDID and those professionals that are all wanting to bring about real change.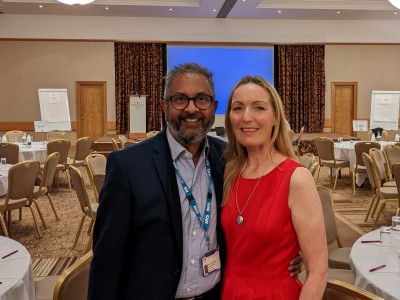 "The neurodivergent community voices were fully involved today and they were leading the way, with professionals learning directly from their experiences. It's wonderful to see a group of people looking at culture change because that's where we must see a difference."
Conference delegate Robbie, who is a volunteer with lived experience at CWP, said: "I found the conference informative and the environment friendly, I felt like I had a real voice to help influence change in healthcare services.
"I often ask the question; do I have a voice? Can I speak? Today's conference has shown that my voice is even more important."
"I've really enjoyed the conference today and I've learnt so much. All the speakers and the workshops were very good, and it was great to meet such a variety of people. What I think was heartening was all of the people from the CANDDID team talking about the importance of co-production and how high it was on their agenda" commented Alan, a parent carer who attended the conference.
Professor Sujeet Jaydeokar, CANDDID Chair, reflected: "It was a great conference with inspirational talks from a wide variety of speakers. There have been so many interesting discussions and the feedback today will underpin our research agenda moving forward."
CANDDID is hosted by Cheshire and Wirral Partnership NHS Trust (CWP). Tim Welch, CWPs Chief Executive, said: "It was very humbling and a huge privilege to hear everybody's experience today. CANDDID is really dedicated to ensuring meaningful co-production is at the forefront of our research, training and education.
---
Take a look back at the preentations from the CANDDID Stakeholder Conference 2022.
---